Description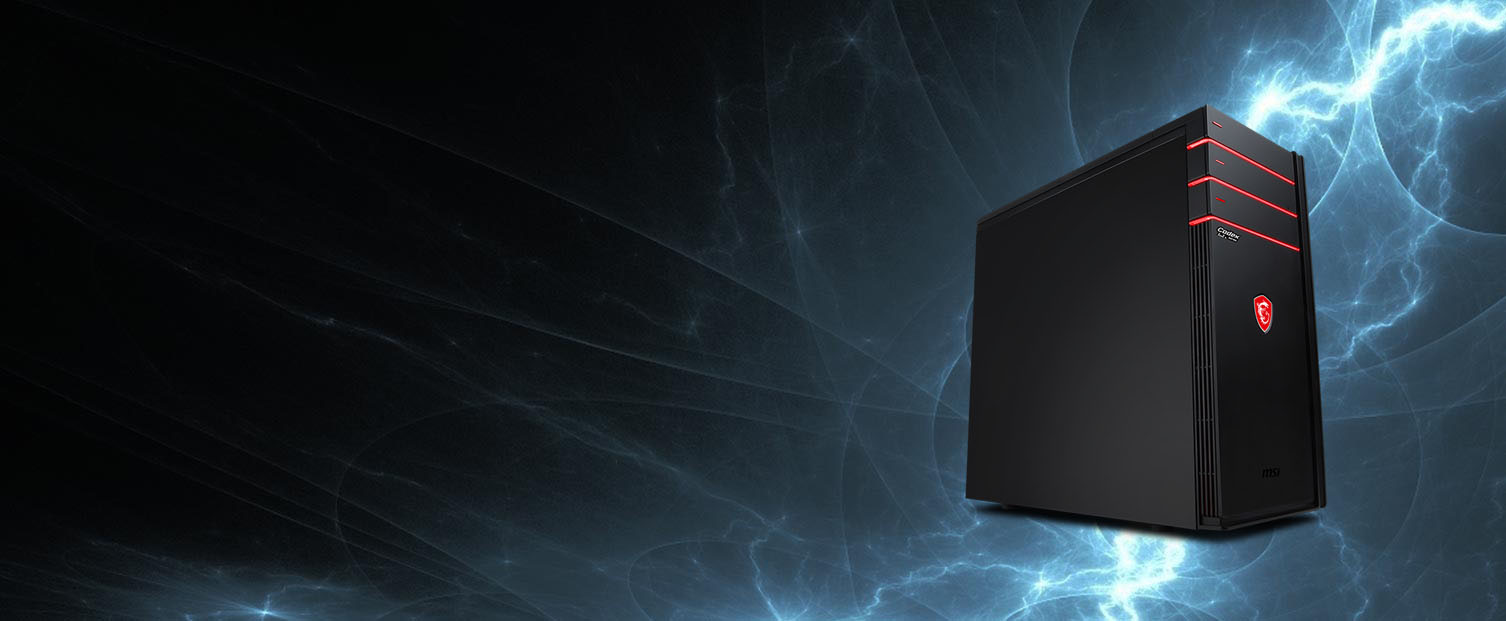 RULE YOUR GAMING EMPIRE WITH MINIMALISTIC STYLE
Minimalistic outside. Menacing inside. The MSI Codex XE Plus gaming desktop lets you play cool and look cool. Slots for the NVIDIA GeForce RTX 2080 Ti graphics card, 16 GB DDR4 memory, and 512 GB SSD on the motherboard is enhanced with Steel Armor for stable latching and interference-free signals. Codex Air Flow Path lets all components enjoy fresh air inside. The potentials of all hardware will be unleashed to the full for any exacting AAA or VR title. Rule all games with high definition and incredible realism.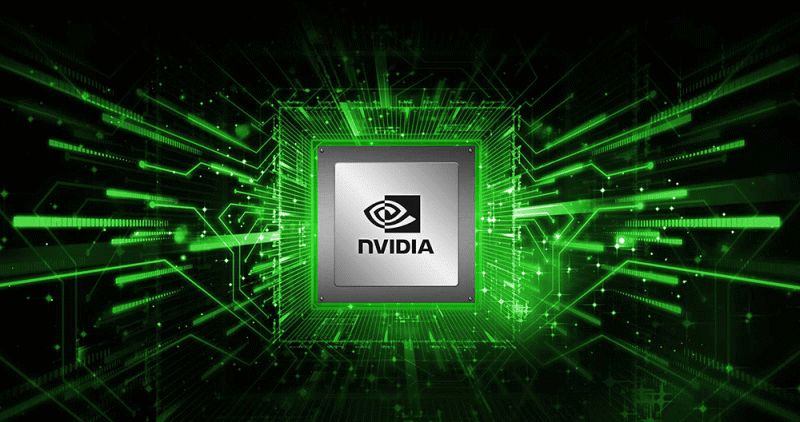 Groundbreaking Graphics Card
Codex XE Plus is built with MSI GeForce RTX 20 series graphics card, providing real-time ray tracing and artificial intelligence to enable unparalleled lifelike gaming experience. Besides performance being up to 40% better than GeForce GTX 10 series, MSI GeForce RTX 20 series cards also have enhanced cooling efficiency, featuring a dual fan design and the Double Ball Bearings to ensure long-lasting performance.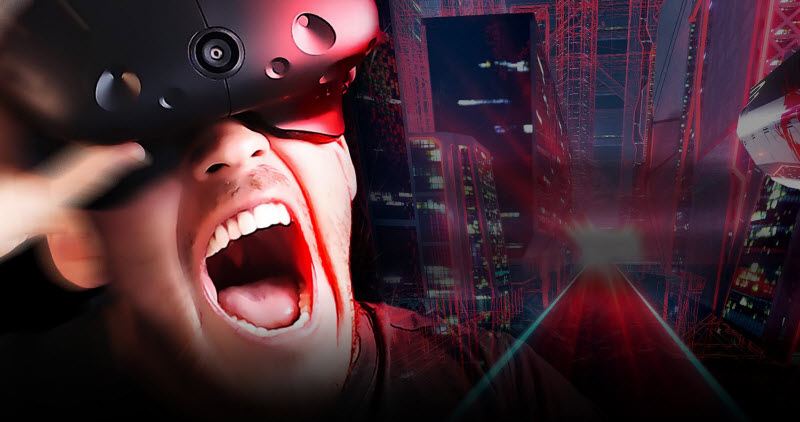 Immerse Yourself into VR
Integrating the very best of cutting edge technologies on MSI hardware provides a smooth VR ride. Through joint efforts with major VR brands, combined with unique MSI features geared to VR, MSI brings gamers and VR professionals a vivid and realistic experience in which content truly comes alive.
Ultra 4K HD
Capable of Ultra 4K resolution, MSI Gaming Desktops offer incredibly sharp and crisp images, movies and gameplay.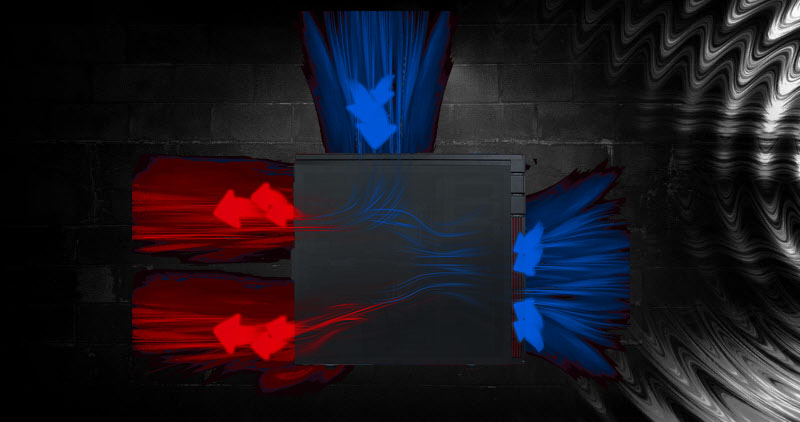 Codex Air Flow Path
Codex XE Plus has large surface dedicated for air-inlet, and a large inner space for installing fans. Such efficient heat-dissipating design will prevent the system from overheating during high performance.
PREMIUM SOUND WITH AUDIO BOOST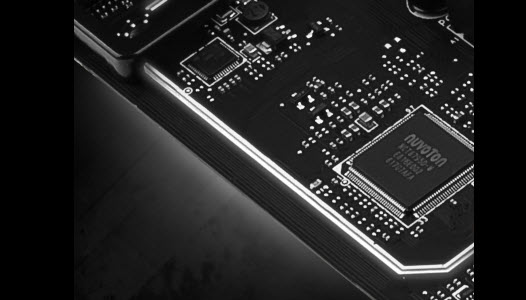 Isolated Audio Design with LED Border
Audio Boost operates like a dedicated soundcard by being physically isolated from the rest of the motherboard circuitry to ensure the purest audio signal possible. A bright border illuminated by LEDs showcases and protects the Hi-Fi audio unit.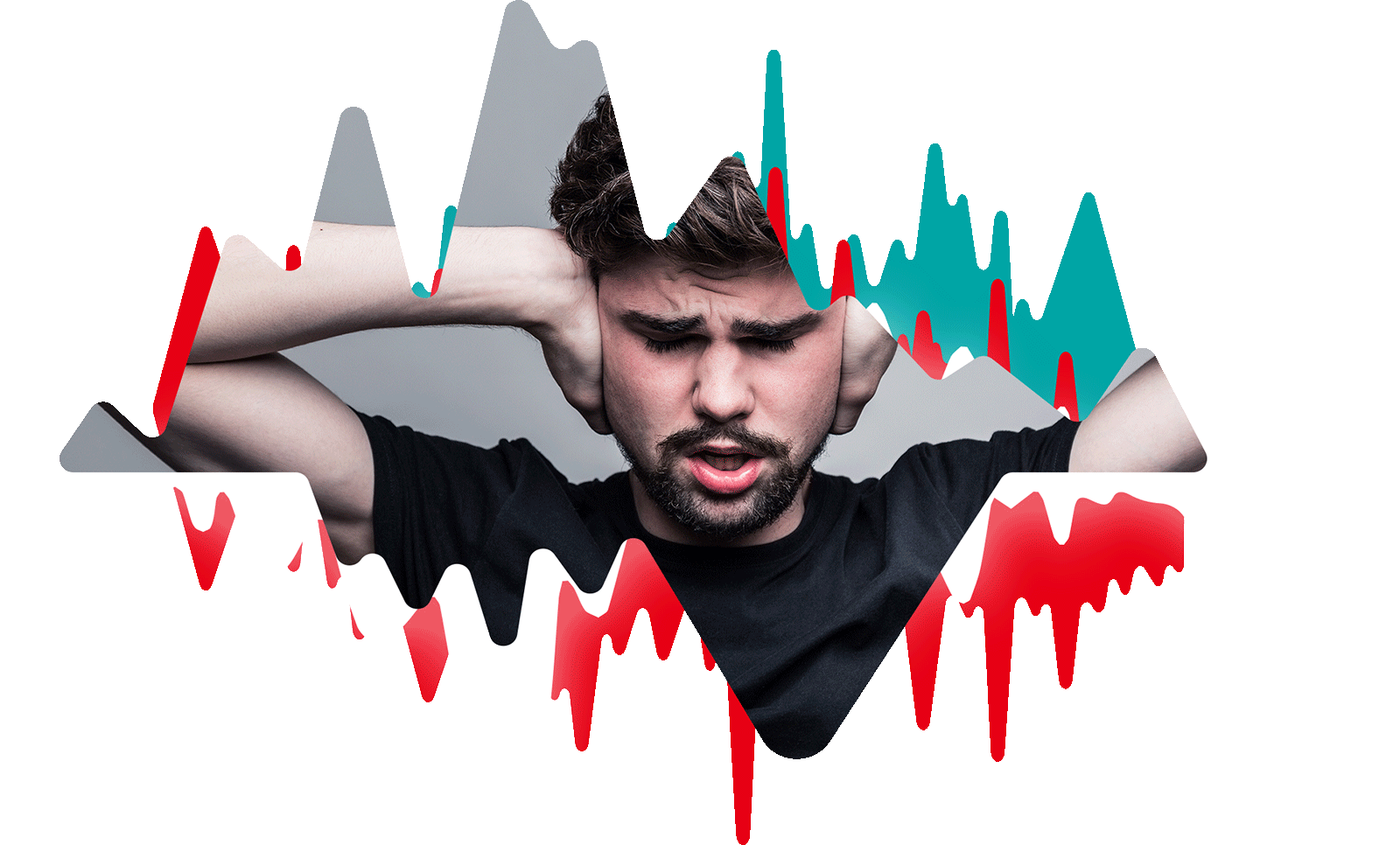 De-Pop Protection
Audio Boost protects your ears by eliminating those annoying loud popping sounds when you plug/unplug devices or turn your PC on/off.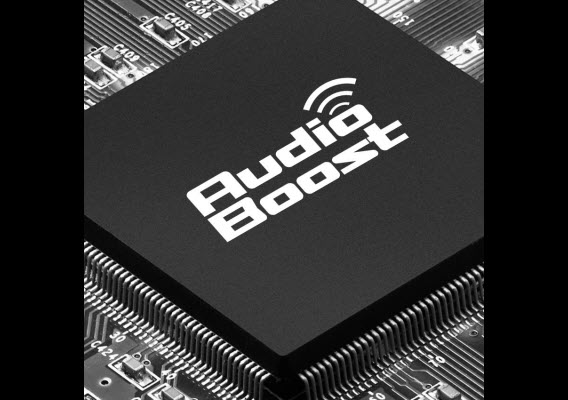 Dedicated High Definition Audio Processor
Audio Boost is powered by an EMI-shielded high quality HD audio processor, making sure you enjoy the purest sound quality in both stereo and surround sound.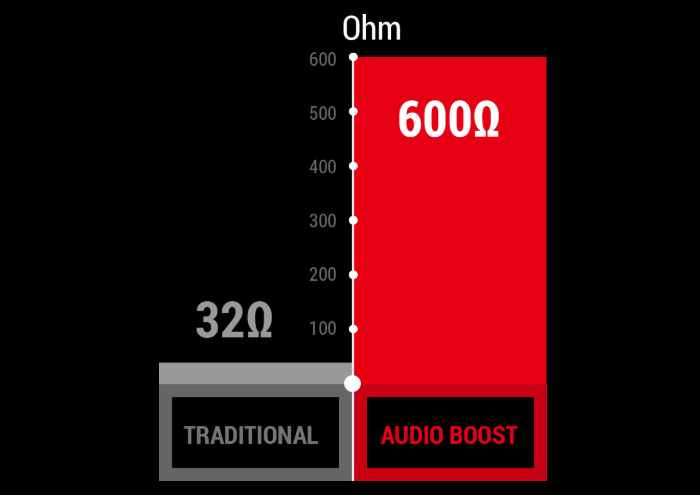 Dedicated Headphone Amplifier That Auto-Detects Impedance
The built-in dedicated headphone amplifier rewards audiophiles with headphones up to 600O impedance by delivering studio-grade sound quality from your gaming PC. Audio Boost 4 automatically detects the optimal impedance for your headphones and adjusts the output for the best sound quality.
Chemi-Con Audio Capacitors for A Warmer Sound
By dedicating golden audio capacitors to the front output, a high fidelity sound experience with exceptional acoustics and realism for studio level headphones is ensured. The Chemi-Con audio capacitors are widely considered to be one of the great choices for the best sound output.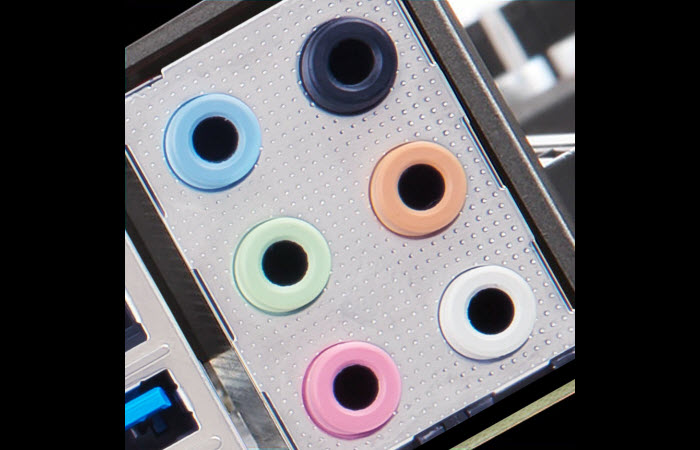 Golden Connectors for Optimal 7.1 Sound Quality
With golden audio connectors you get the best possible signal output with the least chance of distortion. Using gold also prevents any corrosion or oxidation in the long run, which could impact signal quality.
BUILT ON EVERLASTING QUALITY
Fortify Your System with PCI-E Steel Armor
MSI PCI Express Steel Armor slots are armed with more solder points on the motherboard for a stronger hold, preventing any damage due to heavy-weight graphics cards. Steel Armor also protects PCI Express signals against electromagnetic interference for a pure gaming experience and even higher overclocking.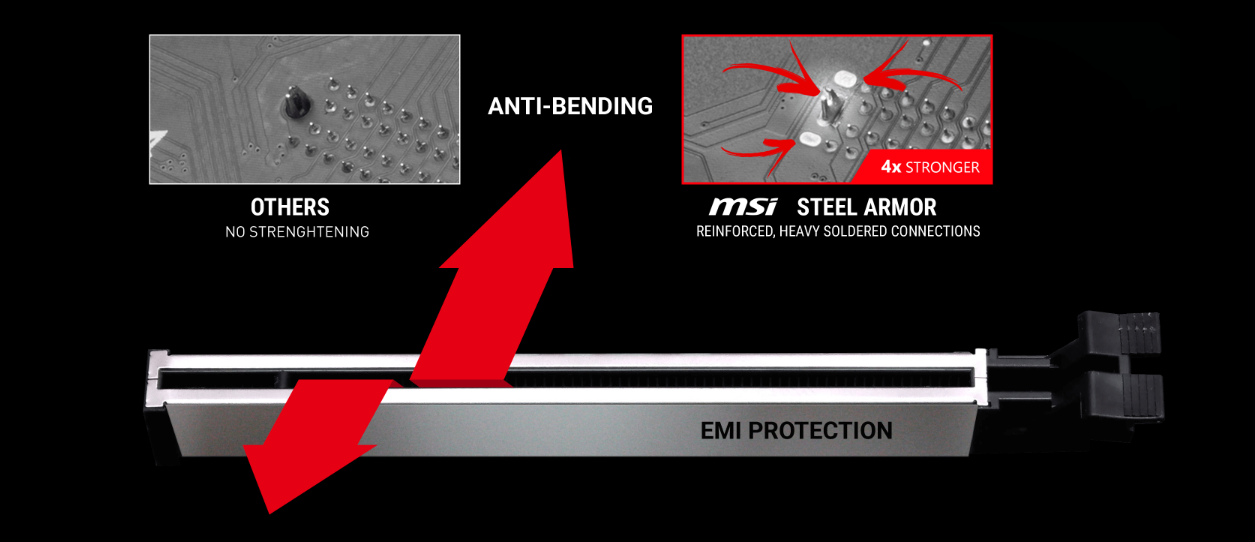 Shield Your SSD & Memory with Steel Armor
MSI Steel Armor protects your DDR4 modules, U.2, M.2 SSD's and slots from physical harm. It also ensures a clean data signal between the motherboard and connected components by shielding against electromagnetic interference (EMI). Steel Armor helps to deliver a smooth gaming experience.

Enhanced Stability with Optimized Memory Layout
Optimized traces and a fully isolated memory circuitry ensure perfect stability and performance, so you never have to worry about your system crashing during games.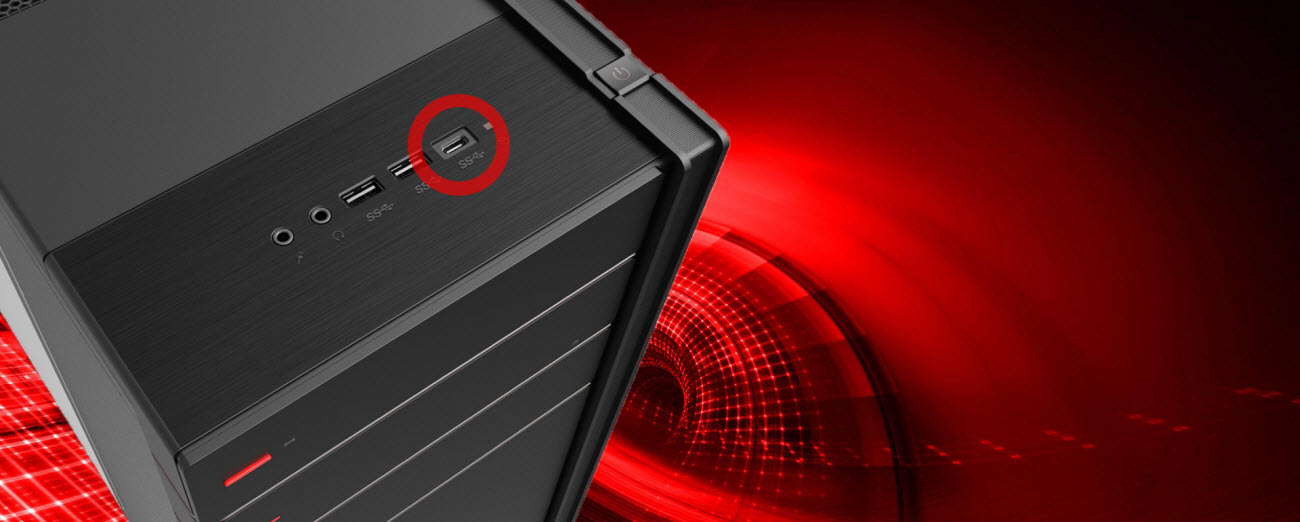 TYPE-C WITH REVERSIBLE DESIGN
Get all the performance benefits from USB 3.1 Gen1 combined with USB Type-C connector. This reversible connector allows effortless connecting for USB devices.
Learn more about the MSI Codex XE Plus 9SF-291US