Description
AG-DVx200 4K Large-sensor, 4/3″ Handheld Camcorder
Thirteen years after the groundbreaking AG-DVX100 was introduced and brought cinematic 24p frame rates to the world of video, the Panasonic AG-DVX2000 is said to be the first 4/3 format sensor 4K/60p camcorder to feature a built-in zoom lens. The camera is fronted by a Leica Dicomar 13x zoom lens (with a 35mm equivalent 28-365mm range), which is matched for optimal performance with the 4K imager. The camera boasts a 12-stop dynamic range, and the ability to capture shallow focus and good Bokeh via the f/2.8 minimum aperture. With its attention-grabbing crimson-red body, the camera is designed for both studio and portable production and ENG. Its extensive range of features include a variable frame rate from 24p at full resolution to slow-motion capture at a lower resolution at up to 120fps. The camera is capable of capturing infrared as well as standard images, although an IR illuminator will be a separate purchase.
Key features
4/3 large-format 4K sensor records 4096×2160 images
4k frame rate: 24p but up to 60p
Zoom range 28-365mm (35mm equivalent)
12 stops of latitude via V-Log L gamma curve
Up to 120fps
IR shooting capability
5-axis hybrid image stabilizer
Intelligent/custom AF
Manual focus assist
1/4, 1/16, 1/64 ND filters
Zoom, focus and Iris controlled by 3 separate rings
OLED viewfinder, approx. 1.77 million dot resolution
Supports camera remote
Supports 4K, FHD, SD recording onto SD cards
Panasonic DVX200 4K Camcorder
The DVx200 will offer many top-end features including 4K/60p recording, a 13x optical zoom and a V-Log L gamma curve (12 stops of latitude, target). It delivers a shallow depth of field and a wide field of view. The DVx200 will be optimized for 4K/HD production and shares the esteemed VariCam family characteristics of filmic tonality and colorimetry, with natural, subtle rendering of skin flesh tones and a V-Log curve emulating the natural Gray-scale rendition of the VariCam 35. The camcorder will incorporate a newly-developed 4/3″ large-format MOS sensor and offer variable frame rate recording up to 120fps in FHD mode, enhancing the DVx200's utility in sports and VFX production.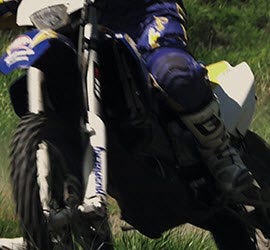 Feature Rich
The camcorder records directly onto SD memory cards in 4K, FHD and SD format in MP4, MOV an dAVCHD, and is capable of simultaneous backup, relay, or dual codec recording onto two separate cards. The camera is compatible with SDHC and SDXC memory cards up to 128GB. The camera's outputs include 36-SDI, HMI, Composite and USB, and XLR, Camera Remote and USB inputs are also available. Mini and super mini jacks are available to control zoom, S/S, focus and Iris. Shutter speeds range from 1/25-1/8000 sec, depending on resolution and frame rate, with slow shutter speeds to 1/2 second possible. The built-in lens can accommodate 72mm filters. It supports external stereo microphones via a stereo mini jack. A speaker jack is also available.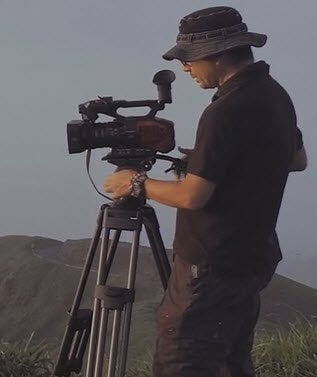 Pro Features
The new handheld 4K camcorder will offer an array of professional features including a newly-designed Leica Dicomar 4K F2.8-F4.5 zoom lens (4K/24p: 29.5 mm – 384.9 mm, HD: 28 mm – 365.3mm, 35 mm equivalent), time-code in/out, 3G HD-SDI and HDMI 2.0 (4K) video outs, easy focus and zooming and programmable user buttons. The DVx200 will record 4K (4096 x 2160) / 24p, UHD (3840 x 2160) / HD (1920 x 1080) 60p / 50p / 30p / 25p / 24p in either MP4 / MOV file formats. There are two SD card slots, facilitating backup and relay recording. For professionals working worldwide, the camera's master frame rate is selectable between 59.94Hz (23.98Hz) / 50.00Hz / 24.00Hz.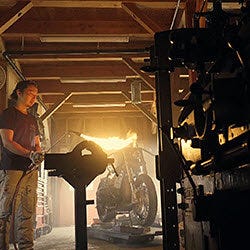 DVx200's three manual operation lens rings
The DVx200's three manual operation lens rings-13x zoom (Cam driven), focus and iris-will provide a comfortable manual control similar to an interchangeable lens camera, but without the need for actual lens changes. The zoom ring's solid feel and smooth action allow delicate ultra-slow zooming. In addition, the camera's multi-step zoom control provides fast response and smooth zoom action, yielding the creative freedom every camera operator desires. The zoom control on the handle enables variable speed zoom, allowing fine zoom control even for low angle shots. The DVx200 also features an enhanced Image Stabilizer, including a five-axis Hybrid Image Stabilizer and 4x correction-area Image Stabilizer.
Leica Dicomar 4K zoom lens with F2.8 aperture
The new Leica Dicomar 4K zoom lens with F2.8 aperture is an optimal choice for 4K video, with the ability to produce elegant imagery and subtle bokeh". It has superb center-of-gravity balance and keeps ghosting and flare to a minimum. Since the DVx200 is an integrated-lens camcorder, there is no need to perform the flange back adjustments or shading corrections when changing lenses. Even with a large diameter lens, the DVx200's weight and balance have been optimized to facilitate agile, mobile 4K acquisition. , the camcorder will be ideal for such flexible shooting applications as mounting on today's popular stabilized camera rigs.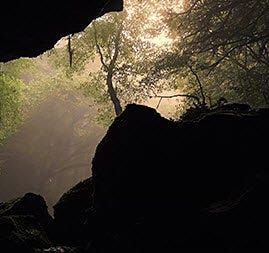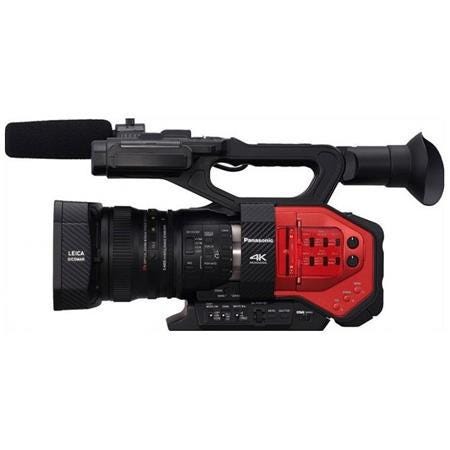 72mm Front element lens / filter diameter
The AG-DVx200 utilizes a front element lens / filter diameter of 72mm, a very common size. It is expected that many third party lens accessory manufacturers will announce items such as close-up lenses and other desired options.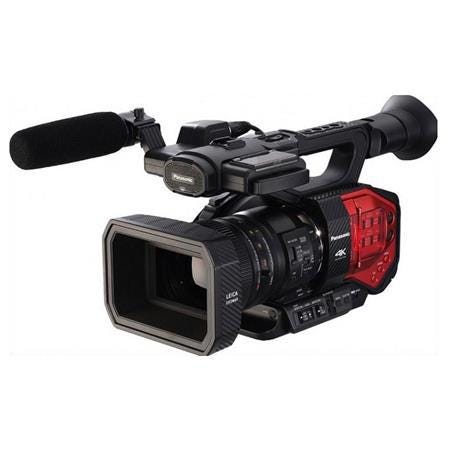 next-generation ergonomics
The AG-DVx200 will feature next-generation ergonomics, with the battery positioned in the rear so as not to interfere during handheld shooting. The DVx200 comes with a rugged woven carbon, fiber-like finish and the recording section is distinctively styled with crimson shading.
Open New Paths to Video Production with 4K Quality and Mobility with the Panasonic AG-DVX200 4K Handheld Camcorder.
Panasonic AG-DVX200 Features
Newly developed F2.8 LEICA DICOMAR 4K lens.
13x zoom, 4K (4096 x 2160) 24p: 29.5 mm – 384.9 mm, FHD: 28mm – 365.3 mm
(35 mm film equivalent)
5 axis Hybrid Image Stabilizer
Intelligent Auto Focus system
ND filters (1/4, 1/16, 1/64)
Beautiful Bokeh effects from a 4/3-type, large-format sensor
12 stops of imager latitude faithfully recorded by new V-Log L gamma curve
60p images (MP4/MOV) with 4K (UHD: 3840 x 2160) resolution are recorded onto SD cards
Variable Frame Rate with a maximum of 120 fps (in FHD resolution)
Simultaneous, backup, and relay recording using two card slots
Panasonic AG-DVX200 Specifications
Sensor

4/3-type MOS solid state image sensor

Resolution

FHD (1920 x 1080): 15.49 megapixel
UHD (3840 x 2160) 59.94p/50.00p: 8.71 megapixel
UHD (3840 x 2160) 29.97p/25p.00: 12.89 megapixel
4K (4096 x 2160) 24p: 13.35 megapixel

Lens

Optical image stabilizer lens, optical 13x motorized zoom F2.8 to F4.5 (f=12.8 mm to 167 mm)
35 mm equivalent:
FHD: 28.0 mm to 365.3 mm
UHD 59.94p/50.00p: 37.2 mm to 485.1 mm
UHD 29.97p/25.00p: 30.6 mm to 398.7 mm
4K 24p: 29.5 mm to 384.9 mm

Filter Attachment

72mm

ND Filters

1/4
1/16
1/64

IR Filter

Incorporates the ON/OFF control function

Shortest Shooting Distance (M.O.D.)

Approx. 1.0 m from the front lens

Gain Setting

L/M/H selector switch
-6 dB to 24 dB (Adjustable in 1dB steps. Negative gain values are available only when [EXPAND] is enabled, and the automatic setting can be assigned to L/M/H.)

Super Gain

30 dB and 36 dB switched
(when assigning [S.GAIN] to the USER button)

Color Temperature Setting

ATW, ATW LOCK, Ach, Bch, preset 3200 K/preset 5600 K/VAR (2000 K to 15000 K)

Shutter Speed at Mode = 59.94 Hz

60i/60p Mode: 1/60 sec to 1/8000 sec
30p Mode: 1/30 sec to 1/8000 sec
24p Mode: 1/24 sec to 1/8000 sec

Shutter Speed at Mode = 50.00 Hz

50i/50p Mode:1/50 sec to 1/8000 sec
25p:Mode 1/25 sec to 1/8000 sec

Slow Shutter Speed at Mode = 59.94 Hz

60i/60p Mode:1/2 sec to 1/30 sec
30p Mode:1/2 sec to 1/15 sec
24p Mode: 1/2 sec to 1/12 sec

Slow Shutter Speed at Mode = 50.00 Hz

50i/50p Mode:1/2 sec to 1/25 sec
25p:Mode 1/2 sec to 1/12 sec

Synchro Scan Shutter at Mode = 59.94 Hz

60i/60p mode: 1/60.0 sec. to 1/249.8 sec.
30p mode: 1/30.0 sec. to 1/249.8 sec.
24p mode: 1/24.0 sec. to 1/249.6 sec

Synchro Scan Shutter at Mode = 50.00 Hz

50i/50p mode: 1/50.0 sec. to 1/250.0 sec.
25p mode: 1/25.0 sec. to 1/250.0 sec.

Shutter Open Angle

Shutter Open Angle: 5.0 deg to 180.0 deg to 360.0 deg
(in 0.5 deg steps, angle display)

VFR Recording Frame Rate at 59.94 Hz

60p mode: 2, 15, 30, 40, 55, 58, 60, 62, 65, 75, 90, and 120 fps
30p mode: 2, 15, 26, 28, 30, 32, 34, 45, 60, 75, 90, and 120 fps
24p mode: 2, 12, 18, 20, 22, 24, 26, 28, 30, 36, 48, 60, 72, 84, 96, and 120 fps

VFR Recording Frame Rate at 59.94 Hz

60p mode: 2, 15, 30, 40, 55, 58, 60, 62, 65, 75, 90, and 120 fps
30p mode: 2, 15, 26, 28, 30, 32, 34, 45, 60, 75, 90, and 120 fps
24p mode: 2, 12, 18, 20, 22, 24, 26, 28, 30, 36, 48, 60, 72, 84, 96, and 120 fps

Sensitivity

When [HIGH SENS.] mode
F11 (2,000 lx, 3,200 K, 89.9% reflect, 1080/59.94i)
F12 (2,000 lx, 3,200 K, 89.9% reflect, 1080/50i)

Minimum Subject Illumination

0.2 lx (F2.8, gain 18 dB, [1/2 sec.], [HIGH SENS.] mode)

Digital Zoom

2x/5x/10x, i.Zoom (1.0x to 1.54x, variable zoom)

Lens Hood

Hood with lens cover

Recording Media

SDHC memory card (4 GB to 32 GB),
SDXC memory card (48 GB to 128 GB), UHS-I supported

Recording Slot

Slot x 2

System Format

59.94 Hz / 50 Hz

Motion Picture Recording

Recording Format: MOV, MP4, AVCHD
Recording Mode: *Please see the Video record mode table.

Still Picture Recording

JPEG (DCF/Exif2.2) supported
8.8M: 4096 x 2160 (17:9), 8.3M: 3840 x 2160 (16:9),
2.1M: 1920 x 1080 (16:9), 0.2M: 640 x 360 (16:9),
0.3M: 640 x 480 (4:3)

Video Signal for External Output

8 bit 4:2:2/10 bit 4:2:2 (switchable menu)
*Output of UHD/59.94p/50.00p becomes 8 bit 4:2:0. When 10 bit 4:2:2 is selected, recording is not possible with the main unit.

Recording Video Signal

8 bit 4:2:0

Video Compression Format

MPEG-4 AVC/H.264 High Profile (MOV/MP4/AVCHD)

Video Compression Format

MPEG-4 AVC/H.264 High Profile (MOV/MP4/AVCHD)

Recording Audio Signal

48 kHz/16 bit, 2 CH

Audio Compression Format

LPCM (MOV/MP4) Dolby Digital (AVCHD)

Audio Compression Format

LPCM (MOV/MP4) Dolby Digital (AVCHD)

Headroom

12 dB

Recording Method

MOV, MP4

Recording Format

When [Dual Codec] = FHD 50 Mbps
[Main Recorder]
Recording mode = MOV/MP4
*UHD/29.97p/25.00p/23.98p 100 Mbps
[Sub Recorder]
Recording mode = Same as the recording mode and the frame rate of the main recorde
FHD/29.97p/25.00p/23.98p 50Mbps

Recording Format – Continued

When [Dual Codec] = FHD 8 Mbps
[Main Recorder]
Recording mode = MOV/MP4
UHD/29.97p/25.00p/23.98p 100 Mbps
FHD/59.94p/50.00p/29.97p/25.00p/23.98p 200 Mbps
FHD/59.94p/50.00p 100 Mbps
[Sub Recorder]
Recording mode = MOV
FHD/59.94p/50.00p/29.97p/25.00p/23.98p 8 Mbps

Video SDI Out

BNC x1, 0.8 V [p-p], 75 , 3 G/1.5 G HD SDI, SD SDI supported
Output format: 1080/59.94p LEVEL-A/50.00p LEVEL-A,
1080/29.97PsF/25.00PsF/24.00PsF/23.98PsF,
1080/59.94i/50.00i, 720/59.94p/50.00p, 480/59.94i, 576/50.00i

Video Out

BNC x 1, Composite 1.0 V [p-p], 75

Video HDMI Out

HDMI x 1
(HDMI type A terminal, not compatible with VIERA Link)
Output format:
2160/59.94p/50.00p/29.97p/25.00p/24.00p/23.98p,
1080/59.94p/50.00p/29.97p/25.00p/24.00p/23.98p/59.94i/50.00i,
720/59.94p/50.00p, 480/59.94p, 576/50.00p

Built-in Microphone

Supports stereo microphone

Audio Input1/Audio Input2

XLR x 2, 3-pin
Input high impedance, LINE/MIC/MIC+48 V (switchable SW)
LINE: 4 dBu/0 dBu (switchable menu)
MIC: -40 dBu/-50 dBu/-60 dBu (menu

Audio Output

SDI OUT: 2 CH (LPCM) switchable gain: 0 dB/-6 dB/-12 dB
HDMI OUT: 2 CH (LPCM)
Audio OUT: 3.5 mm diameter stereo mini jack x 1, Output level: 600 , 316 mV
Headphone: 3.5 mm diameter stereo mini jack x 1
Speaker: 20 mm diameter, round x 1

Cam Remote

2.5 mm diameter super mini jack x1 (ZOOM, S/S)
3.5 mm diameter mini jack x1 (FOCUS, IRIS)

TC PRESET IN/OUT:

Used as the input and output terminals
Input: 1.0 V to 4.0 V [p-p], 10 k
Output: 2.0 V ±0.5 V [p-p], low impedance

USB HOST

Type A connector, 9-pin, bus power supported
In Recording mode; USB2.0 compatible (5 V, 0.5 A)
In Playback mode; USB 3.0 compatible (5 V, 0.9 A), used for external media device connection*External media device with a capacity of 32 GB or below or a capacity above 2 TB cannot be used

USB DEVICE

Micro-B connector, 10-pin, USB 3.0,
Mass storage function (read only)

DC IN

DC 12 V (11.4 V to 12.6 V), EIAJ type 4

LCD Monitor

4.3 type HD color monitor, Approx. 2,760,000 dots

Viewfinder

0.39 type OLED (organic EL display)
Approx. 2,360,000 dots, video display area: approx. 1,770,000 dots

Power

DC 7.2 V (when the battery is used)
DC 12 V (when the AC adaptor is used)

Power Consumption

21.7 W

Weigh

Approx. 2.7 kg (5.95 lb)
(body only, excluding lens hood, battery, and accessories)
Approx. 3.1 kg (6.84 lb)
(including lens hood, battery, and eye cup)

Dimensions

181 mm (W) x 216 mm (H) x 374 mm (D)
(excluding protrusion and eye cup)
(7-1/8 inches x 8-1/2 inches x 14-23/32 inches)