Description
Sony PxW-FS5 compact Super 35mm camcorder
Sony PxW-FS5 compact Super 35mm camcorder rounds out Sony's line of 4K professional cameras, filling an important niche between cameras like Sony's PxW-FS7 and the NEx-FS700, or complementing Sony's new consumer a7R II and a7S II models.
• Super 35-Sized CMOS Sensor
• Sony E-Mount
• UHD at 24/30 FPS, HD Up to 240 FPS
• XAVC Long, AVCHD Recording Codecs
As a companion camera or on its own, the PxW-FS5 fits a range of applications, including documentary and independent filmmaking, online content creation, student film projects and even DSLR users looking to "step up." The PxW-FS5 is ergonomically designed for versatile, hand-held shooting. The lightweight body has excellent weight balance, ensuring reliability and all-day comfort. It can be used in almost any location, even airborne when mounted on a drone. A variety of shooting angles is possible with the one-touch rotatable grip. All key controls are at the user's fingertips, allowing for shooting flexibility and instant switching between low or high angle shooting.
Key Features:
Flexible handheld shooting with a lightweight body:
4K shooting and 240 fps high-speed shooting
Variety of shooting applications and rich network functions
4K 30p/24p shooting (XAVC Long 100Mbps)
HFR 240fps Super Slow Motion
Built-in electronic variable ND filter (1/4-1/128)
Clear Image Zoom
4K XAVC high-definition shooting
Capable of 4K XAVC high-definition shooting, the camera's Super35 Exmor CMOS sensor incorporates 11.6 million pixels and 8.3 million effective pixels. The high sensitivity and large size of the sensor delivers background defocus, increased low-light sensitivity and lower image noise. High-quality imagery is further ensured by high frame rate cache recording at 10-bit 4:2:2 Full HD and a high frame rate of up to 240 fps, in 8 second bursts, which makes 1/10 times Super Slow Motion possible without sacrificing bit depth or loss of image quality.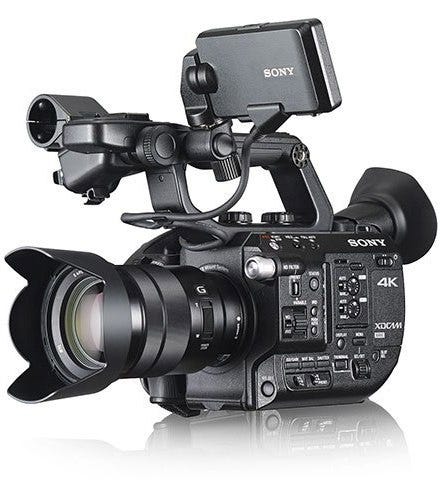 Compatibility with Sony and third-party lenses
Integrating easily with other camera lenses, Sony's a Mount System offers compatibility with both Sony and third-party lenses. The PxW-FS5's E-mount can take virtually any lens, such as SLR lenses via an adapter, as well as Sony's E-mount and A-mount lenses, ensuring the camera adapts to multiple environments. Sony's a Mount System and its enhanced interfaces include 3G-SDI, HDMI output and dual SD card slots. Also equipped with Wi-Fi and a wired LAN terminal, the PxW-FS5 features enhanced network functions such as file transfer and streaming transmission. A planned future firmware update will provide RAW output.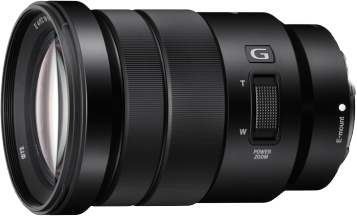 Built-in electronic variable ND filters
The PxW-FS5 is the first Super35 camcorder to feature built-in electronic variable ND filters, further expanding the depth of field representation by the large-format sensor and enabling flexible exposure control. The PxW-FS5 is equipped with both a four preset position Filter Selection Knob on the top front of the body. It also has a large diameter assignable 'exposure control wheel' that can be assigned to smoothly control iris aperture or the Variable ND Filter with a range of seven F stop. The Variable ND function provides smooth exposure control without affecting the depth of field or image quality degradation. Only the exact amount of attenuation can be applied, forgoing use of lighting, gain or iris aperture changes to compensate for excessive attenuation. The filter density assignment of the ND knob is user programmable. There are four positions: clear plus three others selectable in small increments: 1/4, 1/8, 1/16, 1/32, 1/64, 1/128. As in other Sony cameras it's possible to optionally link a White Balance setting to an ND position.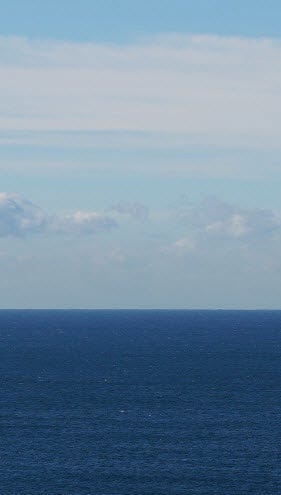 E-Mount, Alpha Lens System
Users and experts alike are recognizing Sony as a world-class lens manufacturer. Sony E-Mount lenses are designed for motion shooting: The Iris aperture can be smoothly adjusted in 1/120th of a stop, they have circular bokeh and zooms are Parfocal, enabling beautiful focus pulls. Furthermore just like Leica still lenses, E-Mount short flange design provides the optical superiority of 'natural lens design' without the limitations caused by 'retro focal' architectures imposed by the mirror box necessary in DSLR cameras. Another benefit of 'natural lens design' is smaller size & weight, a bonus for handheld shooting.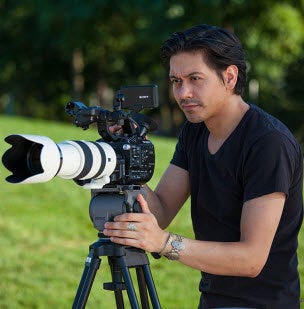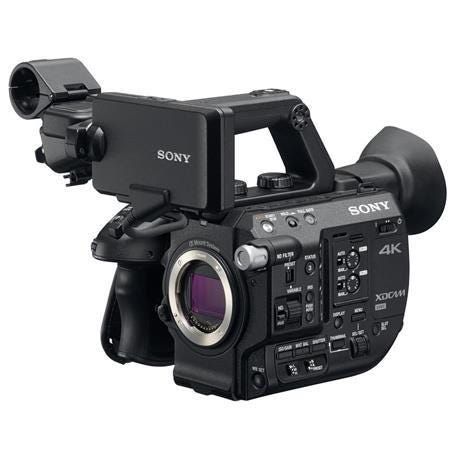 Advanced Focusing & Face Detection
Another improvement offered by the PxW-FS5 is a newly developed fast-acting auto focus algorithm that works even in challenging lighting situations. Auto-focus is very helpful to keep a difficult subject in focus. The PxW-FS5 also offers a 4x & 8x Focus Magnification window, which the user can reposition, for precise manual focus checking and adjustment.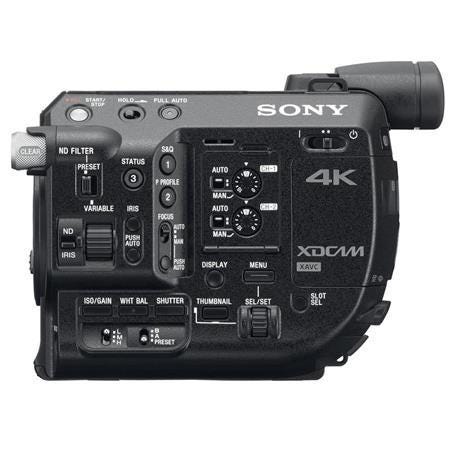 4K Exmor sensor with 12M pixels
The PxW-FS5 sensor is the same used on the PxW-FS7 with 14 Stops of dynamic range and wide color range. On the PxW-FS5 the native sensitivity is set ISO 3200 with Slog-3. Maximum sensitivity is 30dB gain (ISO 32,000) with very little noise. Total pixels: 4352×2662 (11.6M) and effective pixels: 8.4M(16:9)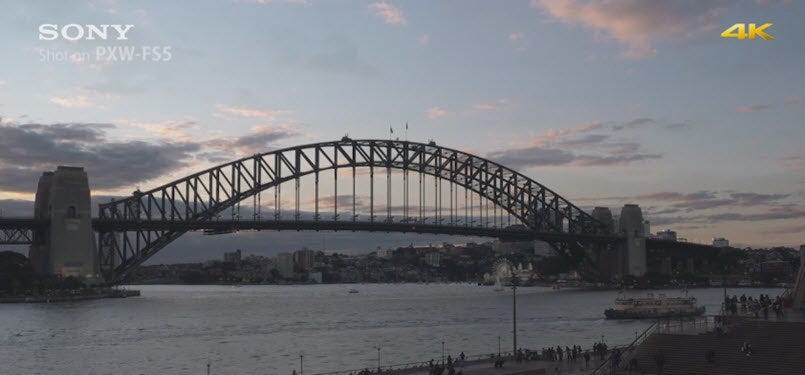 2K Center Scan (Sensor Crop)
The PxW-FS5 offers the powerful Center Scan feature, which adds 2x magnification to the attached lens. In essence, the Center Scan function only reads the pixels in a 2K Window on the center of the 4K Exmor sensor. The image is not scaled or altered, avoiding image degradation caused by digital zooms. Center Scan does not change the depth of field; it only reduces the angle of view approximately in half.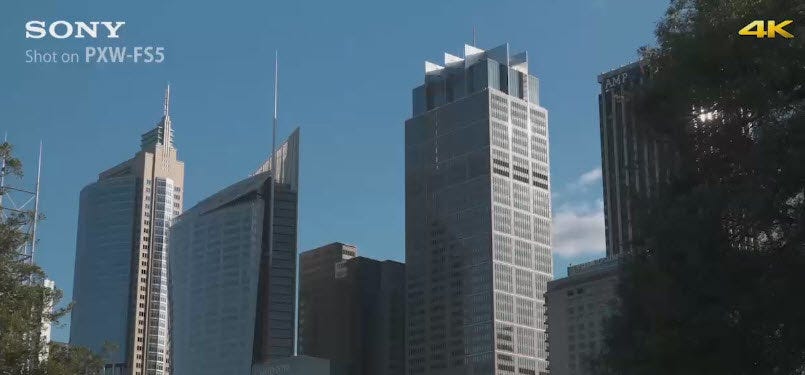 B4 (2/3-inch) lens use
2K Center Scan allows practical use of 2/3-inch ENG/ EFP lenses. The image circle of a 2/3-inch lens is very small. Thus, to cover a Super35mm sensor with a 2/3-inch lens, an adapter with 2.6x magnification is required, incurring a whopping 2.5 stop loss! By using Center Scan and a low magnification 2/3-inch lens adapter, light loss is less than one Stop, which enables shooting in challenging light condition.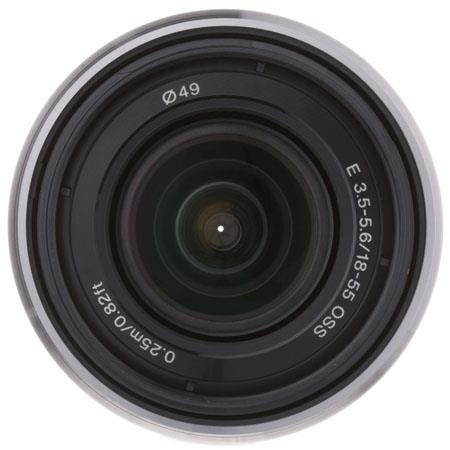 35mm lens use
When used with 35mm lenses, Center Scan effectively doubles the reach of any lens used on the camera; for example a 400mm lens will gain a field of view equivalent to a 800mm lens.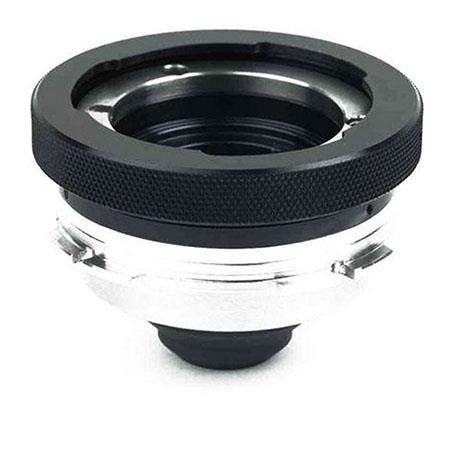 Super16mm lens use
Center Scan enables using Super16mm lenses. All that's required is an appropriate PL or C-Mount to E-Mount adapter.
Flexible Audio
The unit includes two 24-bit 48kHz audio channel recording capability. Inputs can be configured in stereo, using a choice built-in microphone, MI-Shoe or XLR connectors. There is one XLR connector on the handle next to the microphone mount. A second XLR is located on the rear of the camera body; it is available even if the camera is stripped completely down for use on drones or gimbal applications.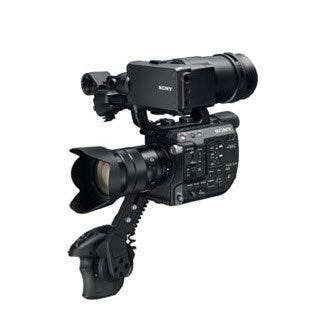 Wi-Fi & Streaming
The camera has a built in Wi-Fi capabilities that enables live streaming to PCs, tablets and Smart Phones. When using content Browser mobile, the user can even control the camera wirelessly. One Ethernet connector located on the rear panel of the camera provides a robust connection when a reliable Wi-Fi link is not available.
Clear Image Zoom
The camera first zooms up to the maximum optical magnification of the attached lens, then the 'Clear Image Zoom' continues zooming into the image an additional 2x (HD) or 1.5x (QFHD); producing sharp, clear images despite the increased magnification.
Clear Image Zoom can even be applied on top of an image previously magnified by Center Scan, effectively doubling magnification once more.
When using Sony servo zoom lenses the camera first zooms to the maximum optical magnification, then uses Sony 'Clear Image Zoom' technology to continue enlarging the image an additional 2x (HD) or 1.5x (QFHD). Clear Image Scan uses a proprietary advance technology that produces sharp, clear images despite the increased magnification.